You are here
Chaplain's Message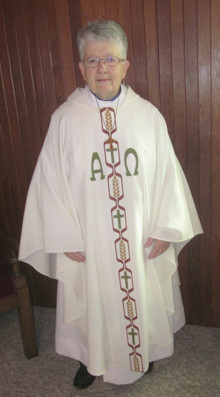 Rev. Marilyn Murphy. Canadian Chaplain.
As we celebrate the 125th Anniversary of Mothers' Union in Canada, our continuing focus and support is on families in their many forms both locally and throughout the wider world. We continue to do this through our prayers, our worship and our faith in the abiding love of God.
God's world has many diversities and because of this the needs of others may be very different from our own. But even with our diversities we are all neighbours. In Leviticus 19:18 and in Matthew 22:39 God is encouraging us to "Love our neighbour as ourselves." This is the second greatest commandment.
As Mothers' Union members we do this by celebrating with each other in times of joy and supporting each other in times of adversity. We support each other by remembering our members in our prayers through our Canadian Cycle of Prayer and our Worldwide Cycle of Prayer. We reach out to our communities through the differing initiatives of our local branches and our Mothers' Union projects worldwide.
Let us be there for all as we pray,
May ours be the eyes that see the poverty in our world,
May ours be the ears that hear the cries of your people.
May ours be the hands that work for transformation
to bring about your kingdom on this earth
Great God of Power, this is our prayer. Amen
( Source: Mothers' Union – United in Prayer & Worship)
Rev. Marilyn Murphy
Canadian Chaplain
info@canadianmothersunion.ca
---