You are here
Chaplain's Message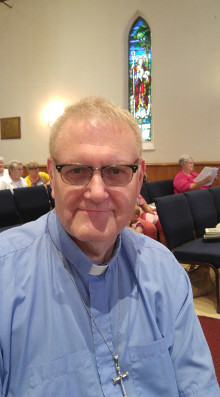 Rev. Canon Tom Stradwick. Canadian Chaplain.
I would like to say how honoured I am to serve as Mothers' Union Chaplain. I must admit that my exposure to Mothers' Union has been very limited growing up in the Diocese of Niagara. I do not remember hearing about the ministry of Mothers' Union until we were serving in the Council of the North. We received a cheque from the Mothers' Union's Northern Ministry Allowance which was extremely welcomed.
As Mothers' Union, we minister to children and families as ministers in changing times. I would draw us to Matthew 14:22-33 where Jesus walked on the water. We hear Peter asking for proof. "If it is you Lord, command me to come on the water."Jesus say, "Come."Note that everything is ok. Peter is walking on the water as he keeps his eyes on the Lord. When he notices the storm around him he begins to sink.
As we continue in our ministry as Mothers' Union, we need to take two things from Matthew 14:22-33. The first, Peter was brave enough to get out of the boat. Secondly, as long as he kept his eyes on Jesus he was ok.
So, as we journey together these next four years, we pray that we will be brave enough to get out of the boat and as we have our eyes fixed on Jesus, continue in our ministry in changing times.
Yours in the ministry we share,
The Rev. Canon Tom Stradwick
Canadian Chaplain
info@canadianmothersunion.ca
---