You are here
Chaplain's Message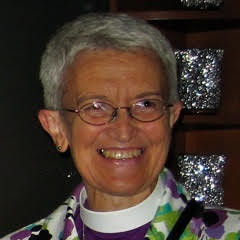 The Right Reverend Sue Moxley. Canadian Chaplain.
I am so pleased to be asked to serve as Mothers' Union Chaplain. I have been involved with Mothers' Union since 1983 when I was a theological student at St. Mark's Church in Halifax, Nova Scotia. I continue to be a member now in our Parish of St. John the Evangelist in Middle Sackville, Nova Scotia.
As a member of the Anglican Consultative Council for 12 years, I had the opportunity to meet Mother's Union members all over the world! Conversations started on the common ground of what we knew we agreed on about valuing marriage and family life. While our life situations may have been very different, the Mothers' Union symbol on fabric, or banner, or pin, was recognized as a trusted starting point for a relationship to be built.
As I write this, we are approaching the 16 Days of Activism against Gender-based Violence and Abuse (25 November to 10 December, 2021). There was not a place I traveled where women and children were not at risk from abuse and violence, especially in the family situation. Women around the world know the need to continue to work on the Anglican Communion's 4th Mark of Mission. " To seek to transform unjust structures of society, to challenge violence of every kind and to pursue peace and reconciliation." Mothers' Union is a key part of this work to help build a world free from violence and abuse, a world more like the Kingdom of God. We can all take the pledge: Never to commit, condone, or remain silent about all forms of gender-based violence and discrimination.
In Jesus' love.
+Sue
The Right Reverend Sue Moxley
NS & PEI (Retired)
info@canadianmothersunion.ca
---