You are here
President's Message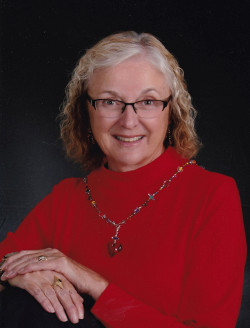 Alice Kennedy, Canadian Mothers' Union President
Welcome to the Canadian Mothers' Union website. The Canadian executive changed January 2017 so the information has been updated to reflect the new council members.
The Canadian Mothers' Union spreads across the country with the main membership on the east coast. Our branches vary in size with the current number of members at just more than 500 for 2017. We belong to Zone B in the Worldwide Mothers' Union. Zone B includes Canada, USA, West Indies, Argentina, Peru and Brazil. Argentina and Peru operate under different names as the name did not translate well. They are AMARE and AMA respectively.
The country of Canada is very large regionally and this makes it difficult for some branches to feel part of the whole. There are 2 dioceses with a Mothers' Union structure. They are New Brunswick and Nova Scotia & PEI. Branches in Quebec, Ontario, Manitoba, Alberta and British Columbia report directly to the Canadian Council.
The Canadian Mothers' Union has 2 main projects which are Parenting and the Northern Clergy Family Fund.
The Parenting Project is gaining momentum as we endeavor to provide training to interested facilitators in our north. Parenting Facilitators have been trained and groups have been run in the 2 Dioceses and British Columbia.
The Northern Clergy Family Fund is supported by both the Mothers' Union and our other Anglican Women's group known as the ACW. The fund coordinator contacts the Bishops in the northern dioceses and requests names of clergy families. When the fund has sufficient cash flow then the coordinator sends a cheque. The current amount is $1,000.00. The recipients are not aware of the gift until it arrives in the mail. The Canadian Mothers' Union has received positive feedback regarding this project.
You can read about Branch activities in the newsletters uploaded to this website. Also there are suggestions for Branch programs.
Don't hesitate to sends us feedback at info@mothersunion.ca.
---