You are here
Past Presidents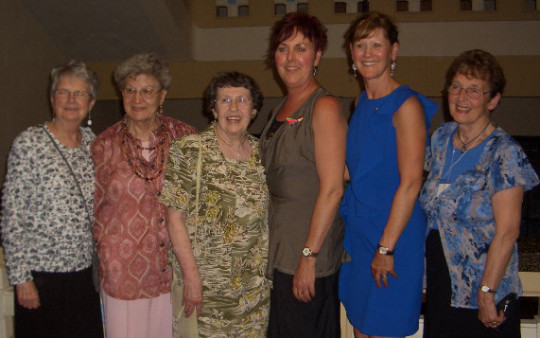 Past Presidents gathered at the 2012 Canadian Conference in Ottawa. From left to right: Mary Wilkie, Marion Lepinsky. Ethel Nelson, Annette Graydon, Kathleen Snow and Celia Dodds.
Presidents of Canadian Mothers' Union Since 1928
Dominion Presidents
1928-1935, Mrs. S.P. Matheson, Winnipeg Manitoba.
1935-1942, Florence Ward-Price, Ontario.
1943-1946, Mabel Crook, British Columbia.
1947-1948, Mrs. Leo Vardy, Manitoba.
1948-1958, Edith Stanley, Manitoba.
1959-1964, Ethel Anderson, Ontario.
1965-1969, Phyllis Hutchison, Manitoba.
Interim Council
1970-1973, Elspeth Newton, Ontario - Canadian Representative.
Canadian Presidents
1974-1976, Elspeth Newton, Ontario.
1977-1982, Mary Wilkie, Nova Scotia.
1983-1984, Marion Lepinsky, Manitoba.
1985-1988, Margaret Wall, Ontario.
1989-1992, Ginny McEwen, New Brunswick.
1993-1996, Joan Peterson, British Columbia.
1997-2000, Ethel Nelson, Nova Scotia.
2001-2004, Annette Graydon, Ontario.
2005-2008, Kathleen Snow, New Brunswick.
2009-2012, Celia Dodds, British Columbia.
2013-2016, Margaret deCarvalho, Nova Scotia.
2017-2021, Alice Kennedy, New Brunswick.
---